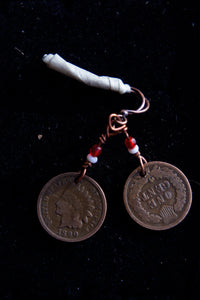 1890 Indian Head Cent Ear Ring
 1890 Indian Head Penny Ear Rings
Red Bead are modern beads from the Czech Republic.
White beads are antique Venetian Beads from mid to late 1800's. 
The Indian Head Cent was minted (not printed) from 1859-1909, and still is a common and well known US coin...and good luck finding one in change. 
The person on the front is actually a depiction of "Lady Liberty" wearing a headdress and is not actually a Native American. 
1859-1864 = 88% copper and 12% nickel.
1864-1909 = 95% copper and 5% tin and zinc. 
---