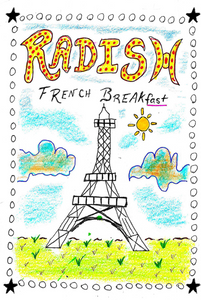 Radish, French Breakfast
Radish, French Breakfast
Seed Grower:  Titbout's Seeds  Missoula, MT
        If your the kind of kindred spirit who wishes for "them early radishes", well boy howdy here ya go partner.  An early pink top and bright white bottom with a healthy dose of spicy radish-amazingness flavor. Oblong and somewhat blunt tipped bottoms great for eating raw, in salads, ferments, or however you enjoy these spicy hobbits.  Let flower and save seeds, pickle your early seed pods, or eat before it flowers.      
REMEMBER YALL, FOOD IS MEDICINE.
      Direct sow please, these little fellers get quite upset if transplanted.  Sow as soon as your fingers and toes wanna get dirty from early Spring to mid-Fall.  Sow about 15 seeds per foot. Rows about 8-12 inches apart.  Please do not thin.  Enjoys regular waterings, happy dancing singing children,  and chemical free soil.  
Sows at least a 7 foot row
---