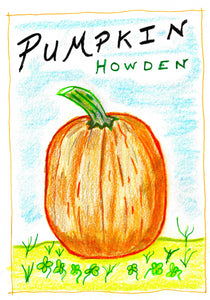 PUMPKIN, HOWDEN
HOWDEN PUMPKIN
Cucurbita pepo   
105-115 Days
Seed Source: 
Triple Divide Organic Seed Co-Op
STORY
This Jack-O-Lantern pumpkin comes straight from the seed grower Charley Overbay with C&S Produce in Big Sandy, Montana. He dry-land farms (no irrigation) this pumpkin and uses intentional crop rotations along with cover crops to organically build soil. The area averages 14" of precipitation each year.  Basically, a super amazing bio-regionally adapted seed for our dry Montana ecosystem. 

HOW
Direct sow 2 seeds every 18-36" in rows 6 feet apart.  Transplant or thin to mature space of 18-36" in row.  Irrigation and happy children will produce bigger pumpkins.  
SEED COUNT
Min. 20 seeds
---