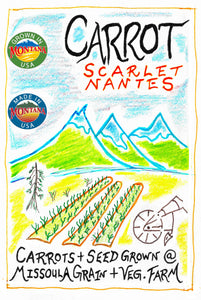 CARROT, SCARLET NANTES
SCARLET NANTES CARROT
Daucus carota
65-75 Days 
The stecklings (fancy pantsy word for carrots) were grown at the Missoula Grain and Vegetable Farm.  They were stored in their "Barn" over the winter, and transplanted in my seed growing plot on their farm. Please enjoy these sugary, tasty, orange, crunchy, mouth-watering, long-term storage, vitamin packed  carrots. To grow your own carrot seed… sow carrot seeds in mid-summer, keep well watered till hard frosts of Fall arrive, pull stecklings, do NOT wash them, trim  and keep 2 inches of top greens, store in cold cellar until one month before last Spring frost.  Transplant to 1 foot apart in row and 3 feet b/w rows.
POLLINATORS LOVE THEIR FLOWERS
Direct sow in early Spring for summer carrots. Mid-summer for fall/storage/seed carrots.  Keep moist until they sprout… up to 21 days.  Thin to 1" apart in rows and 8" - 12"" b/w rows.  They love barefoot kids aspiring to be gardeners when they "grow up" :) :)

There is some chaff with these seeds...its super hard to get it perfectly clean.  
SOWING RATE FOR CARROTS
PACKET SOWS AT LEAST A 10 FOOT ROW

1/8 ounce packet sows about a 35 foot row
1/2 ounce packet sows about a 130 foot row
1 ounce packet sows about a 275 foot row
---