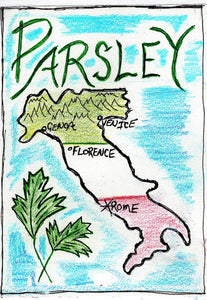 Parsley, Flat Leaf Mix
Parsley, Flat Leaf Mix
Petroselinum crispum
Howdy folks…what are some foods w/o a flat leaf parsley to add as a garnish or a mouth full of parsley? This mix is great for bunching, freezing, drying, eatin' fresh, and quite nutritious.  A biennial (two years till bloom) that can be sown in mid-summer, harvested before cold snaps of Fall, over-winter in a cellar/cold storage, re-sow roots about 2-4 weeks before last Spring frost, and KA-POW….by Fall you will have tons of seeds for your future. 
SEEDS AND CHILDREN ARE OUR FUTURE!!!

Direct seed about 1/4" deep and  20-40 seeds per foot about 1 week before last Spring frost.  OR start plants 4 weeks before transplanting 1 week after last Spring frost.  Keep mature plants about 8-12 inches apart.  Keep well watered and pick outer leaves first.  
STAY DIRTY!! 

---